Grammar checkers are lifesavers whether you are a freelance writer, blogger, student, marketer who writes something online regularly. While you are writing emails, writing on social media or blogs, grammatical errors will put bad impressions on your readers because they will loose interest reading further. Being a professional writer online, some errors and mistakes will cost you badly and degrade your quality.
Thus doing grammar check online, using sentence correctors are always smart moves if you care about writing quality contents. A sentence checker or grammar corrector tool will really help maintaining a professional, SEO-friendly and easily readable content because that is the primary goal of writing.
There are many grammar checker and sentence corrector tools out in the market with lots of functionalities.
Here we have selected three best grammar checkers that will definitely provide you the best support to make sure you have a flawless writing.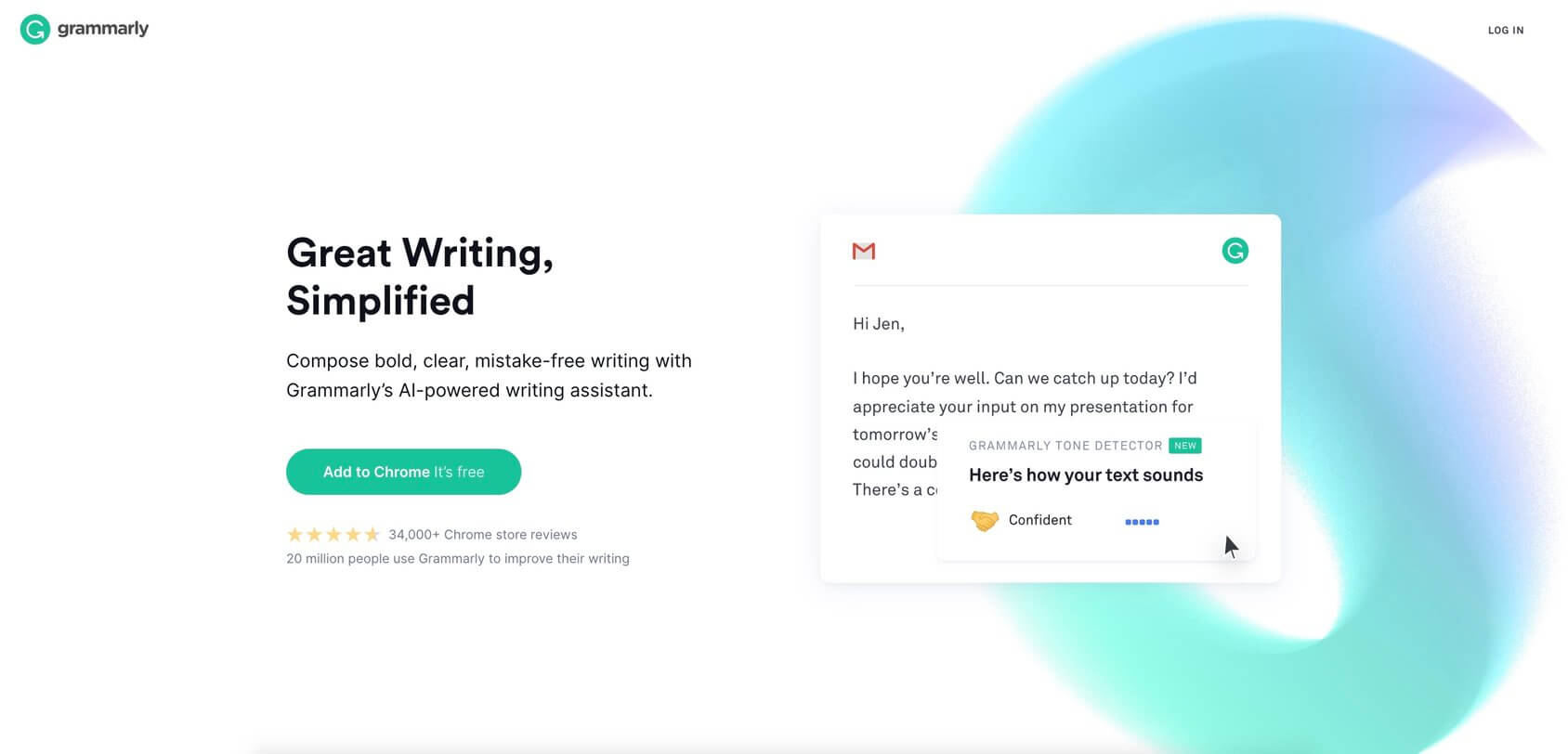 At the top of our list of best grammar checkers is none other than the gem tool Grammarly. It is one of the most popular and well known tool to do English grammar check (and a writing assistant) with online editing tools that exceeds 20 million users and that tells enough about its usability and popularity.
Some of the Key features of Gramarly include,
A user-friendly spelling and grammar corrector that can detect all sorts of errors.
A powerful algorithm that thoroughly scans of errors in your writing and gives suggestions in real-time.
Provide specific suggestions depending on your writing context.
Plagiarism checker (comes with the paid version).
Third-party integration and browser extensions available for major browsers.
Pricing and Plans:
You will be having a few options to start using Grammarly because It comes in three versions, the free version, the premium and business plan.
Free Plan: The Free grammar checker plan includes all the basics including grammar errors, spelling mistakes, and punctuation, along with a fun feature called tone detector. The tone detector analyzes your word choice and phrasing to figure out the tone of your message before you send it.
Premium Plan: The premium plan pricing includes,

$11.66 per month. 1-year plan billed as one payment of $139.95.
$19.98 per month. Quarterly plan billed as one payment of $59.95.
features:

The best writing practice recommendations and stylistic suggestions so that you can improve your contents properly.
Vocabulary enhancement suggestions.
Genre-specific writing styles checks.
A plagiarism checker that can check more than 16 billion web pages and it will leave no loose ends on your writings.

Business Plan: The business plan pricing includes,

$25.00 per month. For 1 member (minimum 3 members).
$12.50 per month. For 1 member (minimum 3 members, billed annually).
features:

Companies having teams involved in content creation can choose team size from 1 to 150+ members (you will be charged per member)
For teams larger than 10 members there are special discounts available.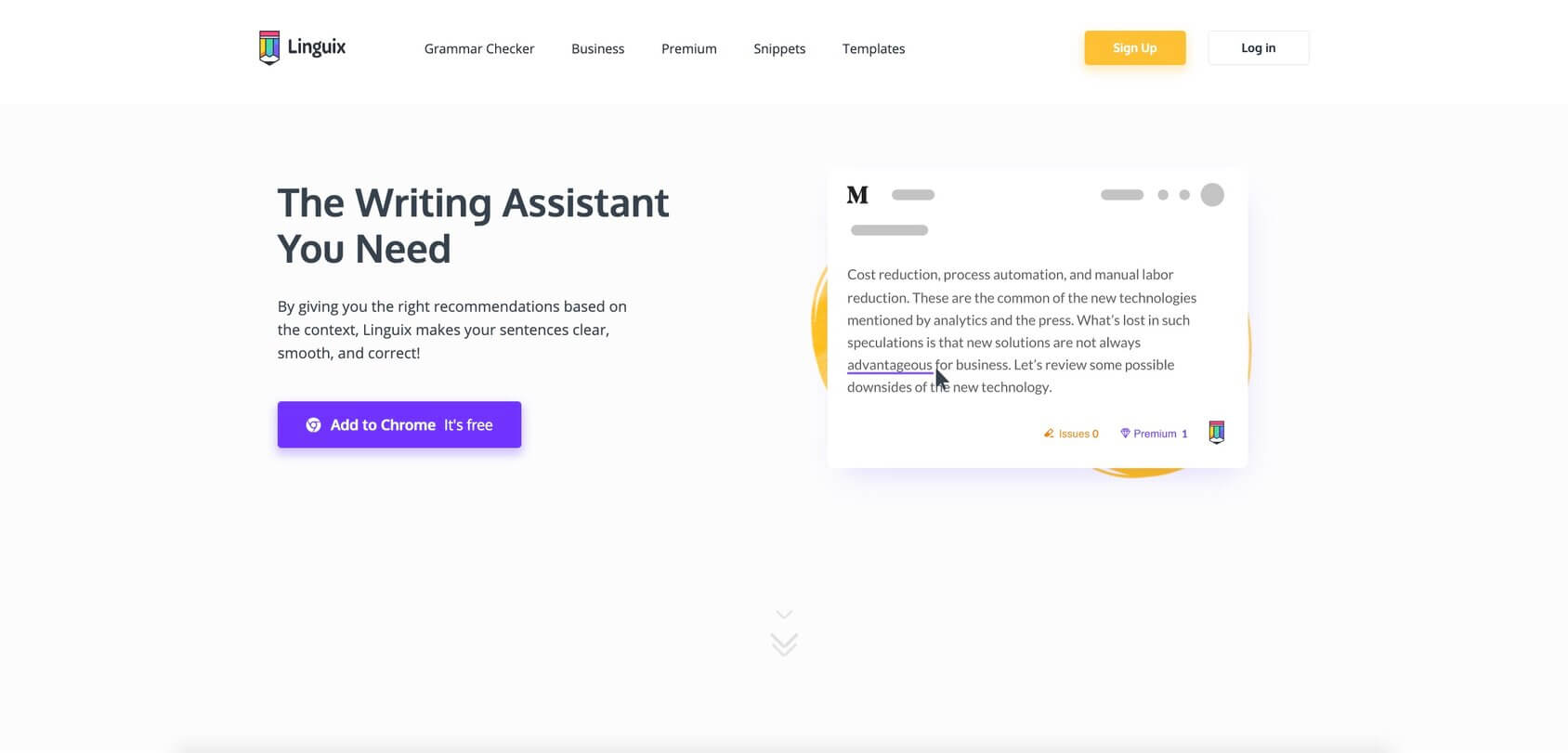 Up next on our list of grammar checkers we have Linguix.
Linguix suits a wide range of users because it is more of a proper writing assistant. It checks your writing for errors so that it can provide context-appropriate suitable grammar, punctuation and style suggestions. Along with that it also offers detailed explanations for popular errors and gives recommendations on how to make your business emails as well as academic and personal projects, read and look better.
So looking at the key features we find,
Appropriate grammar, punctuation and style suggestion for your writings
Complete writing assistant with a grammar checker, templates, snippets, and plagiarism checker.
Synonyms finder and writing insights that will help improve your writing on the go.
Covers over 2700+ corrections and 9 million typos so you can correct any mistakes.
Templates for emails, cover letters and apologies. That's right there's a template for writing apologies!
Browser extensions for major browsers Like Google Chrome, Bing, Opera etc
Desktop apps for Mac and Windows and add-ins for Microsoft Word and Outlook also available
Pricing and Plans:
The Premium and Team plans cost $18.95 per month and $10 per month/member. The Premium plan costs $96 annually.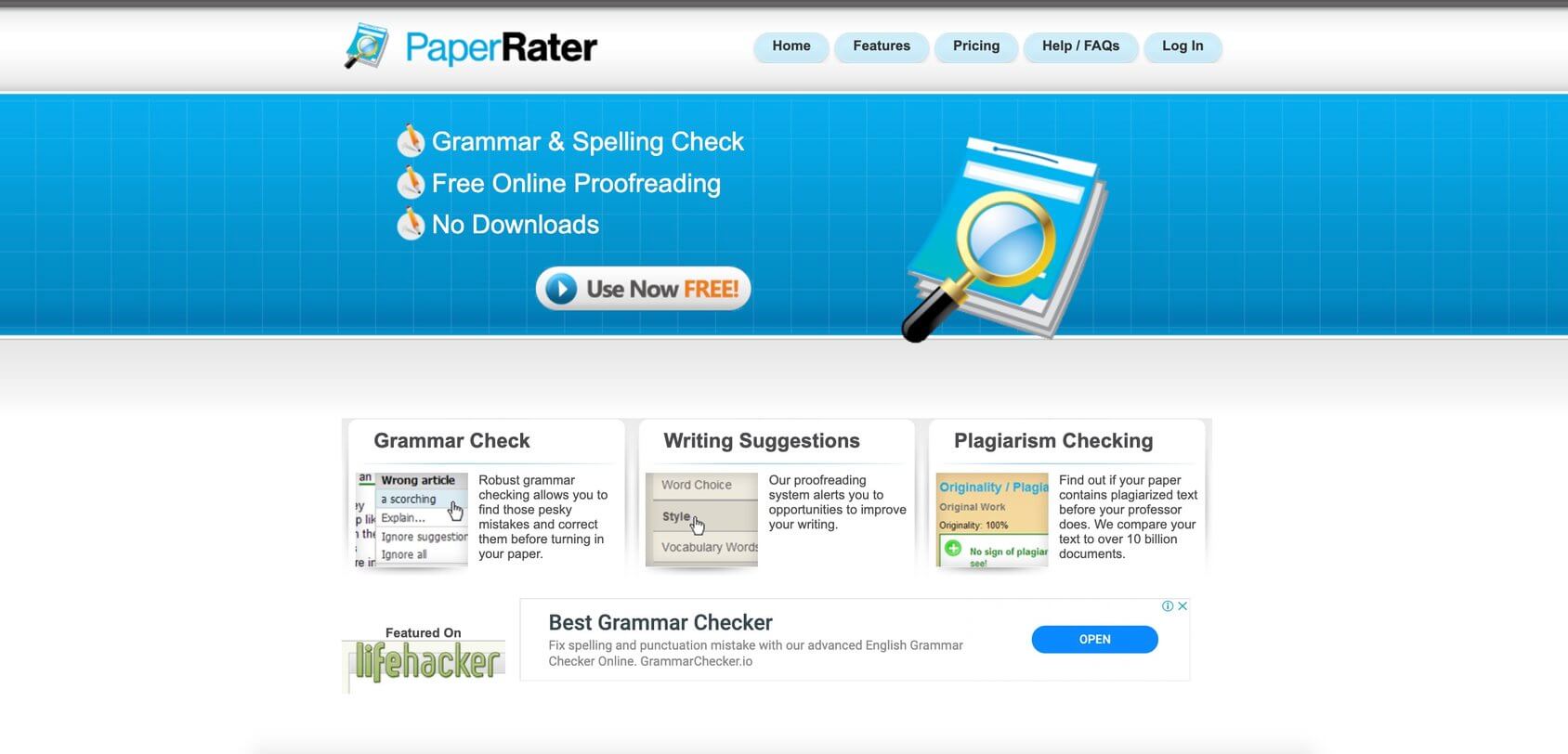 Our last pick is PaperRater for the students specially on colleges and high schools. This grammar corrector tool will be their best of friend as it offers features well suited for writing error-free papers, thesis, assignments and what not.
PaperRater mainly checks papers and essays for grammar and spelling mistakes.
Some of the other important Key features that it includes are,
Integration of an advanced AI system and data science to analyze submitted texts in real-time and offer almost immediate results (typically 5 to 15 seconds after submission).
Cloud-based spelling and grammar corrector tool.
Integrated plagiarism detection service with Originality Score so that you can check the readability statistics.
Immediate analyses and comparison with other students that are on the same education level to improve writings.
Pricing and Plans:
The basic plan comes in free of cost and offers 10 plagiarism checks a month which can be no longer than 5 pages, each containing up to 300 words. It is limited to 50 document submissions per month.
On the other hand the paid plan costs $11.21 per month (1-year plan billed as one payment of $71.55). It offers 25 checks per month, containing 20 pages each with up to 300 words each or 6,000 words in total.
Are you a student looking for tools to improve your thesis, essays or assignments? Because PaperRater will make it an easy job for you. So give it a go and check out the results for yourself.
Conclusion
Improved writings will bring in the attention that your content needs and for you to make it possible these awesome grammar checkers will be of the best of aids. Check out the tools that meet your needs and do leave comments below to share your feedbacks.